(Location: The Ravel Hotel. Dress purchased at Kleinfelds in NYC. Photo by Glenmar Studio)
Our wedding day was the most magical day I could have ever dreamed of.  The weather was incredible… clear skies with a breeze, no rain, hardly a cloud in the bright blue sky.  We were blessed. It had rained almost every day previously, and every day after, but it was a gorgeous day on July 29th, 2018 in NYC.  We didn't take this for granted.
There was so much planning and work that went into it, that I thought I'd wait until afterwards to post a blog series chronicling the entire process!
We just got our photos back from Glenmar Studio, so I thought it was the perfect time to share the incredible experience we had!
In the next several blog posts, I plan on detailing everything that went into making our wedding day as incredible as it was.  As perfect as the day may sound, make no mistake, the planning was stressful, the expenses piled up, and there were a ton of things I wish I had known ahead of time.  But hindsight is 20/20, and now that I have gone through it, I can certainly help anyone who's planning a wedding to learn from my mistakes, and I can share tips and insight on how to make the most of your special day!!
Part 1 of this series is going to focus on your bridal party, and getting ready for the big day!! Yay!! 🍾🥂
My best friends were my bridesmaids, and I am so lucky to have them.  From the moment I asked them to be in my wedding, I immediately started thinking about dresses, shoes, jewelry, hair, makeup, and matching robes to wear while getting ready! Not to mention special gifts for them!
 My goal was to find dresses that would be flattering on every single one of them, and would also make them feel comfortable. I also didn't want all this to cost a fortune, so with some searching, and trial and error, I was able to get everything I wanted, and stay within my budget. (Sort of! Kind of? lol)
First off… the robes. 
(Robes are from ETSY! Link HERE.)
For the night before my wedding, I booked the girls and I a room in the gorgeous Ravel Hotel.  The view is incredible and it's right next door to our wedding venue, The Foundry. 
I wanted us to all have matching robes for photos, but since there was 5 of us, that can get expensive pretty quickly. Luckily, I found the perfect ones on ETSY.  Stylish, affordable, and unique!  They were floral, came in a ton of colors, and they were customizable! Perfect!  I ordered the white floral Bride robe for myself, one Maid of Honor robe, and 3 Bridesmaids robes for the rest of my girls.  They were comfortable, arrived quickly, and were beyond gorgeous for photos! Great buy!  I highly recommend! Link HERE to buy! 
Second… makeup!!! 
The process of narrowing down a makeup artist was daunting at first. I wanted someone who would be able to give me a natural look that still "looked like me". At the same time, I wanted the girls to be able to customize the perfect look to fit their personality, so I needed someone versatile. After testing with a few other makeup artists that were great, but didn't seem to "get me", I found BEAUTINI!  Wow! I tested with Kathy Zikas, and she was beyond incredible. She was able to give me the dewy, glowing, natural look I wanted for my indoor/outdoor Summer wedding!
Added bonus, she gave me, and all the girls individual false lashes! They looked natural, lush, and full.  Some of the other girls wanted a more smokey eye, and darker makeup, which she accommodated beautifully. Everyone was happy with how they looked, and I was ecstatic!
(Snapshot of me and my amazing friend, and groomsman Dennis, who also got his makeup done by Beautini, and loved it!!)
Beautini truly did a wonderful job, and made everyone photo ready! P.S… they also brought us complimentary champagne! How can you beat that?  🥂🍾
If you're looking for a makeup artist for your wedding, or any event, look no further!
Third… gifts, and jewelry for your bridal party!
(Crystal butterfly rings by Gucci. 🦋 Purchase HERE or HERE.)
When I asked my bridesmaids to be a part of this incredibly special day, I wanted to get them each a gift as a thank you for being there for me and standing by my side. I also wanted to get them something they could wear on the day of the wedding. When I saw Gucci's new Butterfly line, I fell in love.  All their pieces were gorgeous and full of whimsy, but it was the rings that caught my eye. They were the perfect size, not too big, but certainly not small. The sparkle on them was incredible.  It's the perfect Summer ring in my opinion.  🦋  Buy HERE!  And if you love butterflies, check out their Butterfly Choker HERE, and their Butterfly bracelet HERE.
Fourth… the bridesmaids dresses! 
When searching for dresses with the girls, there were two things that were most important. Finding a dress that would be flattering on everyone, and would also make them feel comfortable.  There are tons of dress styles out there, from off the shoulder, to lace, to floral, to a-line.  We searched at a few different places, including David's Bridal, and Nordstrom, but finally found the perfect dress at BHLDN.
(My gorgeous bridesmaids in the Jenny Yoo Annabelle dress in cameo pink. Belts were custom made on ETSY, link HERE!)
(Posing on the balcony at The Ravel Hotel, before heading over for the ceremony)
I knew I wanted the dresses to be blush pink, and this Jenny Yoo dress was the perfect shade, and the ideal flattering cut. The a-line shape looked great on everyone, and the structured bust was just gorgeous. 🌟🌸 Plus, the price was super affordable, and every now and then, they have sales on this brand, so keep an eye out for that!
I knew the dresses needed belts to make them pop, but sadly all the belts were sold out at BHLDN.  Luckily, I found an incredible seller on ETSY that made me custom belts for all the girls! Her customer service was INCREDIBLE and I couldn't recommend her more! Plus her pricing was incredible! Great value for a low price! The belts were STUNNING. Here's a link to her store: Heirloom Garter Co. And the link to the belts I got my bridesmaids is HERE.  Buy the dresses HERE. 
Fifth… Let's talk about shoes!
When shopping for wedding shoes, comfort was my first and main concern!  My husband and I had been taking ballroom dancing lessons with the incredible Daniela Del Giorno for the past 6 months to prepare for our first dance. (BTW, she's amazing, and I highly recommend taking lessons with her!)  I wanted to make sure I had shoes that would allow me to dance without causing me unspeakable pain, or blisters! I also wanted shoes that I could walk around in, and dance all night without worrying about limping halfway through the day.
Luckily I found these gorgeous rhinestone encrusted heels that were perfect.  They are from the Jewel by Badgley Mischka collection! They were comfortable with a medium sized heel, and bonus… they matched my dress!  My Maid of Honor ended up buying a pair as well in their blush color to match her dress.  If you're looking for stylish, yet comfortable shoes to boogie the night away, look no further! They were only around $100 bucks, but looked like a million! Buy them HERE!
(My beautiful bridesmaid, Thao, helping me on with my shoes)
Sixth… jewelry for the ceremony!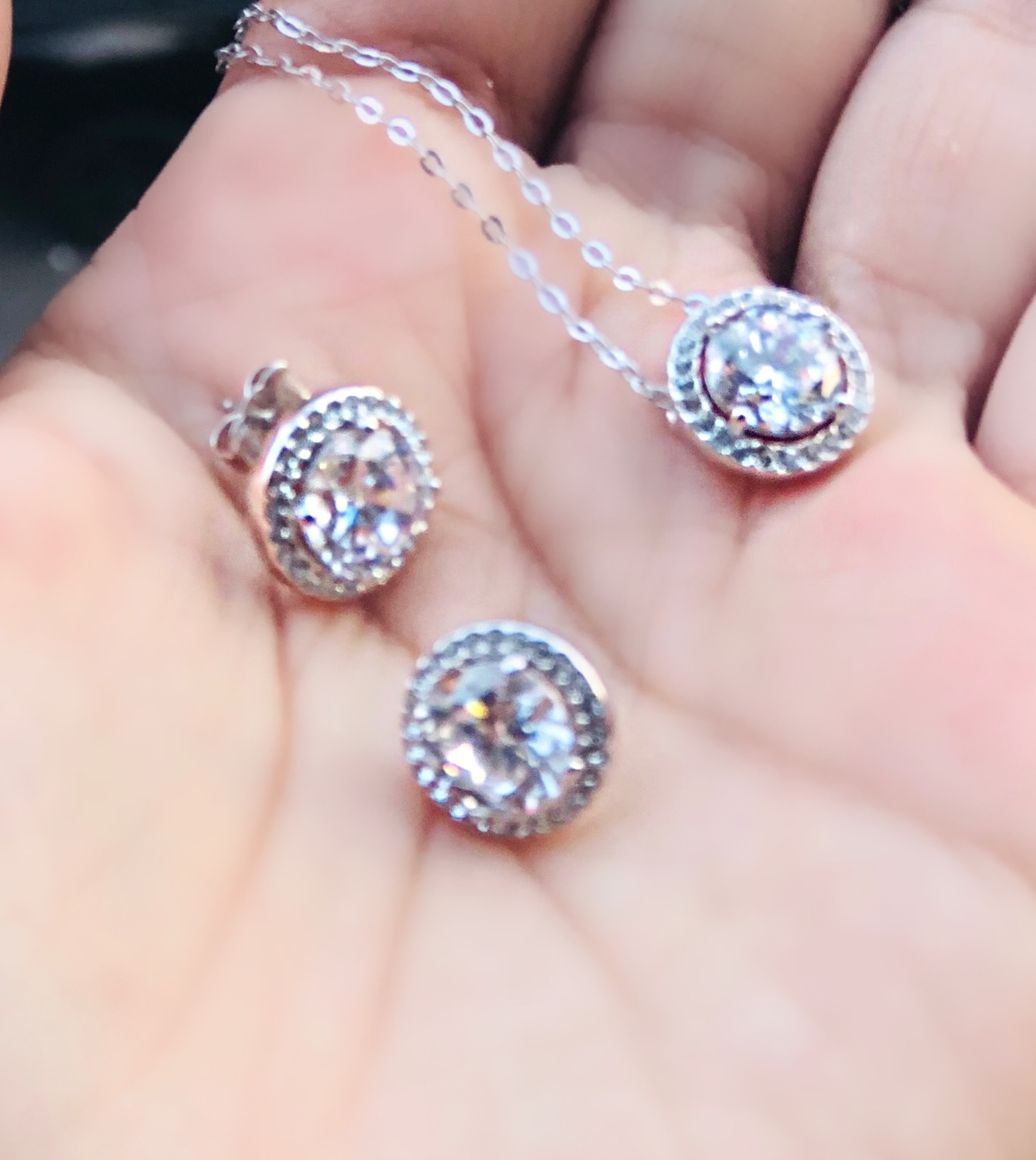 For the bridesmaids, I thought it would be best, and most elegant, to keep it simple. I got them these gorgeous studs and matching solitaire necklaces by Danori from Macy's. They had just the right amount of sparkle that played off their crystal belts.  Perfect for any occasion! You can purchase the earrings HERE, and the necklace HERE!
Sixth, and last…. decor and extras for the wedding suite!
As I mentioned before, I booked us a room at The Ravel Hotel so we could stay there together the night before, and get ready together in the morning. Everyone brought different items, treats, and decorations to make the night special.
(Love balloon from ETSY.  Bridal cookies from ETSY.  Wifey clutch by Edie Parker)
Debbie, my maid of honor surprised me with these adorable wedding themed cookies from ETSY! They were as delicious as they were adorable! She also brought the LOVE balloon, also from ETSY. They were two perfect additions to the beautiful room.
I got the WIFEY clutch on sale at SAKS! It's by Edie Parker, and I had been lusting after it for a long time, I was so happy to find it 60 percent off! Link to more Edie Parker clutches HERE!
My bridesmaid Thao surprised us with rose gold glitter for our Champagne! It bubbled over when we poured it in and put us in the mood to celebrate!
(Our gorgeous wedding invitation, in front of my stunning bouquet by Ivie Joy Flowers)
The incredible team at Glenmar Studio, who took these amazing photos, told me to bring along one of my wedding invitations for pictures, and I am so glad I did! It was a great way to capture every detail that made this wedding possible!
In the next several posts, I will be talking about designing my invitations, save the dates, picking a florist, (Ivie Joy was AMAZING), finding my perfect dress, and choosing our incredible venue. (The Foundry was a dream!)
There's so much to talk about, I couldn't possibly do it all in one post!
Stay tuned for news on my new Youtube Channel I am launching, where I will be talking about ways to save money on your wedding day, my favorite fashion finds, and what to splurge on, and what not to!
All the gorgeous photos on this post were done by the incredible Glenmar Studio! I will be doing a post on them coming up! Stay tuned!
XOXO
Julie Rose 🌹