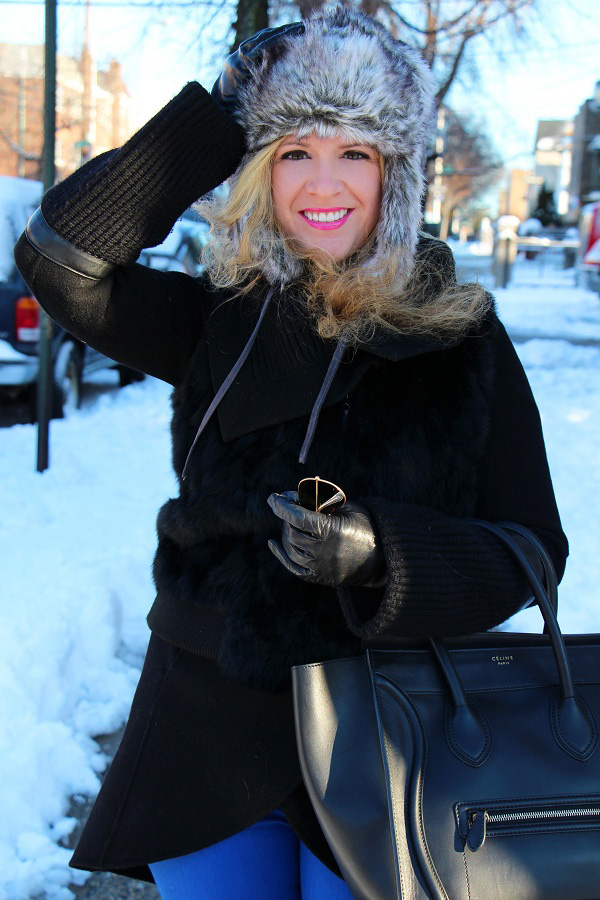 Hello from snow buried NYC!!!  As most of the world knows, NYC, and the surrounding areas of New England were covered in a blanket of snow this weekend.  (The timing of "Nemo" hitting us at the start of Fashion Week  was definitely NOT ideal!) But, I can't say it's not beautiful!  Me, being the stubborn fashionista that I am, insisted on wearing my tall wedge Steve Madden boots despite the thick ice and snow.   You should have seen the look on my boyfriend's face when I emerged from the bedroom in these! We had a meeting in our neighborhood, so I figured walking a few blocks to brunch in these babies wouldn't be bad. After all…..there is rubber on the bottom! Boy, was I wrong! All I can say is thank God for railings,parked cars, and my boyfriend to hold on to! LOL  Since it was so cold, I opted to put a warm fur vest over my wool Mackage coat.  I love layering vests over coats to give them a fresh look.  I also love the look of fur over coats, and this is a great way to get that look without spending a ton of money.  It's also a good way to wear old coats, and make them look new again!  The vest was an ebay find btw. 😉 Lastly, I wore bright blue cobalt to brighten up the black, and as you know from THIS POST, I love neon brights in Winter! How are you dressing for the storm? Tell me in the comments below.
Anyway, this has been an exciting weekend so far. My boyfriend, an up and coming actor and comedian, (and a pretty good blog photographer if I do say so myself), appeared on national television yesterday, and had host Vinnie Politan laughing in stitches on HLN'S Making it in America. If you want to laugh, click here to watch the video.
Lastly, the moment we have all been waiting for! The winner of my Asos Leopard Coat Giveaway! The winner is Annie!  I will be contacting her now! Congrats Annie! The winner was picked randomly.  Stay tuned for TWO more giveaways this month!!! And thanks for reading! Continue to follow me on Facebook, and Twitter for more updates and giveaways!
xoxoxoxo
Julie
Coat: Mackage (Similar HERE),  Fur Vest: Ebay find (Similar HERE), Jeans: Forever 21, Sweater: Forever 21, Boots: Steve Madden (Similar HERE *LOVE THESE!*), Gloves: J Crew, Hat: Urban Outfitters (Similar HERE and HERE), Bag: Celine, Sunglasses: Ray-Ban
SHOP THIS LOOK BELOW!